Uncover Egypt, Jordan, Israel and the Palestinian Territories
Booking Dates
06/21/2023 through 10/24/2024
Travel Dates
06/21/2023 through 10/27/2024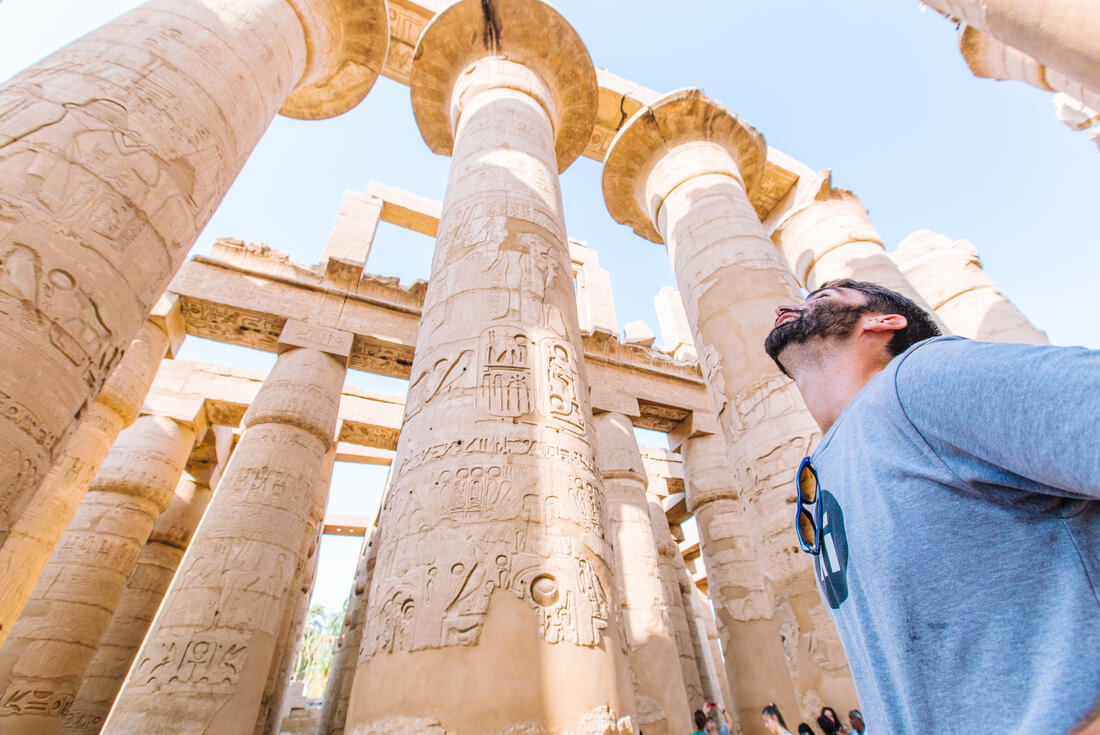 Uncover Egypt, Jordan, Israel and the Palestinian Territories

Take an epic 26-day journey across lands of ancient civilizations, holy relics, cities carved from stone and sunrises over desert landscapes. Sip aromatic coffee in Cairo before you discover the pharaonic temples and tombs along the Nile River. Take jeep safaris in Wadi Rum and Negev, camping under unpolluted skies full of stars. Discover the Rose City of Petra and the Roman city of Jerash before arriving in Tel Aviv. Taste unbelievable falafel in Manger Square and take a walking tour through Jerusalem. Immerse yourself in the frequently misunderstood Middle East and gain an understanding you can't get from news bulletins.

Activities
Complimentary Airport Arrival Transfer
Cairo – Pyramids of Giza and the Sphinx
Cairo – Egyptian Museum
Alexandria – Catacombs of Kom el Shoqafa
Alexandria – Bibliotheca Alexandrina
Alexandria – Fort Qaitbey
Alexandria – Wadi El Natron monasteries
Aswan – Nubian Village Visit and Dinner
Aswan – Philae Temple
Abu Simbel – Abu Simbel temples
Aswan – Felucca Sail
Izbat Al Bayyarah – Kom Ombo Temple
Luxor – Karnak Temple (entrance fee)
Luxor – Colossi of Memnon
Luxor – Valley of the Kings (entrance to 3 tombs)
Luxor – Tomb of Tutankhamun
Luxor – Hatshepsut Temple
Cairo – Khan al-Khalili bazaar visit
Wadi Rum – Desert Jeep tour
Petra – Guided tour
Petra – Home-cooked meal
Shobak – Shobak Castle
Madaba – St Georges Church
Dead Sea – visit and swim
Jerash – Roman ruins
Tel Aviv – Welcome Dinner
Haifa – Bahai Gardens view & photo stop
Jaffa – Old Port Tour
Tel Aviv – Lewinsky Market Visit
Nazareth – Church of Annunciation & Mary's Well
Nazareth – Wine Tasting
Akko – Knights Fortress Visit
Beersheba – Anzac Memorial
Mitzpe Ramon – Ramon Crater Jeep Safari
Negev – Lakiya Negev Bedouin Weaving visit and lunch
Masada – Masada visit
Dead Sea – Visit and float
Jerusalem – Garden of Gethsemane
Jerusalem – Mount of Olives
Jerusalem – Guided tour of Old City
Bethlehem – Church of the Nativity & Shepherds' Field
Bethlehem – Refugee Camp Cooking Class
Bethlehem – Separation Barrier Graffiti Tour
Highlights
Set sail down the Nile – one of the world's most iconic rivers. Relax in comfort as scenes of everyday Egyptian life stream by and experience day turn to night from your sundeck.
You'll never forget your first glimpse of The Treasury in Petra. Spend a day taking in the majesty and mystery of this unforgettable place on a guided tour then enjoy free time to explore.
Experience the unique sensation of floating in the super-salty waters of the Dead Sea, then cover yourself in the mineral-rich mud for a spa treatment like no other.
Explore the Ramon Crater in the Negev Desert in a 4WD, spotting constellations unimpeded by light pollution on a tour with an expert local guide.
Join Bedouin women for special lunch at Lakiya Negev Bedouin Weaving, an initiative that empowers women to apply their traditional weaving skills to the manufacture and sale of their products, and earn an income.
| Day | Description | View All |
| --- | --- | --- |
| Day 1 | Cairo | Details |
| Day 2 | Cairo | Details |
| Day 3 | Alexandria | Details |
| Day 4 | Alexandria - Cairo - Overnight Train | Details |
| Day 5 | Aswan | Details |
| Day 6 | Abu Simbel - Nile River Cruise | Details |
| Day 7 | Nile River Cruise | Details |
| Day 8 | Nile River Cruise | Details |
| Day 9 | Luxor | Details |
| Day 10 | Luxor | Details |
| Day 11 | Cairo | Details |
| Day 12 | Amman | Details |
| Day 13 | Wadi Rum | Details |
| Day 14 | Aqaba | Details |
| Day 15 | Petra | Details |
| Day 16 | Petra | Details |
| Day 17 | Amman | Details |
| Day 18 | Amman | Details |
| Day 19 | Tel Aviv | Details |
| Day 20 | Nazareth | Details |
| Day 21 | Nazareth | Details |
| Day 22 | Mitzpe Ramon | Details |
| Day 23 | Jerusalem / Dead Sea | Details |
| Day 24 | Jerusalem | Details |
| Day 25 | Jerusalem / Bethlehem | Details |
| Day 26 | Jerusalem | Details |